I'm really excited by some of the wines coming out of Cline Cellars these days.  They're producing a number of Rhone varietals in California to create unique and very affordable wines.  The latest one I've tasted from them is this Marsanne Roussanne.
If you're not a regular consumer of Rhone varietals, you may find yourself wondering, "what the hell is Marsanne Roussanne?"  Well, they are two very important white grape varieties in the Northern Rhone Valley and they're often blended together.  But finding wine made from these varieties in California isn't that common.  There are currently less than 250 acres of these two grape varieties combined throughout California.  But I think you'll start seeing more of this stuff coming out of California in the coming years.
As wine consumers venture out and try new wines, I think that marsanne and roussanne could become rising stars.  They'll never be as popular as chardonnay, but I think they're prominence should grow on US wine shelves.  I know that some of you are viognier fans and if you like viognier, then marsanne and roussanne are two varietals you should also explore.  And if you're cutting edge, you're already drinking this stuff.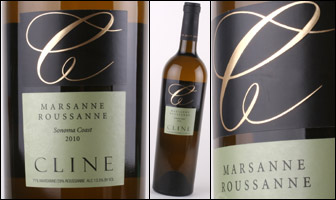 This wine is a blend of 71% marsanne and 29% roussanne.  The marsanne comes from a vineyard in Carneros and the roussane comes from a vineyard in the Petaluma Gap.  Both vineyards are within the Sonoma AVA.  The wine was not oaked at all.
The nose on this wine presents an earthy fusion of mineral, herbal and floral aromas.  The palate is vibrant and tangy, with lemon, lime and melon flavors.  It finishes with lingering melon, peach and mineral flavors.  This is a fun wine, but be warned that it's quite different from other Californian white wines that you may be used to, like chardonnay or sauvignon blanc.  This wine is less about the fruit and more about mineral and crisp acidity.
Wine: Cline Marsanne Roussanne
Variety: Marsanne (71%), roussanne (29%)
Vintage: 2010
Alcohol: 13.5%
Rating: 86
Price:  $15.99
Find Cline Marsanne Roussanne with Snooth
Disclosure: This wine was received as a sample.