When you're perusing the Italian shelf in your local wine shop, chances are good that you'll come across a primitivo.  And you may wonder what that wine tastes like.  Well, if you're a zinfandel fan you may want to check it out because primitivo is basically the Italian name for zinfandel.
The genetic makeup of primitivo is identical to zinfandel, but the wine produced from it is typically stylistically different from American zinfandel.  I usually expect a primitivo to be more earthy and less fruit-forward than their Californian counterparts.  But with this one from Vivi, it's a bit more "new world" in style.  In fact, maybe more new world than some California zinfandel I've tasted recently.
This particular wine was aged in stainless steel, which gives it a fresh and fruity style versus a more structured style found in many oaked zinfandels.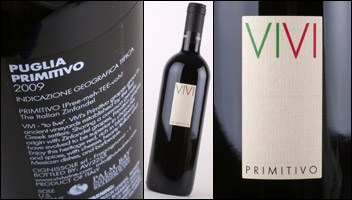 The nose on this wine is really floral, which makes it interesting.  It also shows aromas of blackberry, plum and cola.  On the palate, it's a true sweet and sour experience, with ripe berry flavors up front followed by tart cherries.  It makes for a really lively palate.  The acidity is superb but the tannins are subtle.  It's clear that this wine was aged in stainless versus oak by the agressiveness on the palate.  It's a bit angular.  It finishes with spicy, tart fruit.
It's a good wine and definitely worth checking out for something different if you're a zinfandel fan.
Wine: Vivi Primitivo
Variety: Primitivo
Vintage: 2009
Alcohol: 13%
Rating: 85
Price:  $9.99
Find Vivi Primitivo with Snooth
Disclosure: This wine was received as a sample.