We've been talking about zinfandel for the past few weeks, and while many of those we've reviewed have been from Lodi, California, now we're getting into some from other regions.  And one of the great appellations for zinfandel is Paso Robles, the origin of this wine from Villa San-Juliette.
When we're writing about wines, sometimes it's hard to find a story to tell.  Some wines really don't have much of a story other than the fact that they're a product from some big company.  That's not the case with this wine.
Villa San-Juliette is owned by Nigel Lythgoe and Ken Warwick, two life-long friends from Liverpool.  But they're better known as the executive producers of the TV shows American Idol, America's Got Talent, So You Think You Can Dance and other shows.  And while they have been very successful in television, they didn't have any experience in winemaking before purchasing Villa San-Juliette.
Needless to say, they were in over their heads and problems arose as they launched their new venture.  Potential investors backed out, wild boars damaged their vineyard, a customer cancelled a contract to buy their fruit, vines became rot infested and more.  But turning catastrophe into gold, Lythgoe and Warwick captured their adventures of learning how to run a vineyard in a reality television series called Corkscrewed: The Wrath of Grapes.
If you've ever thought that it would be fun to own a vineyard, you should watch this series to see the chaos that comes with that job.
But since those initial struggles, things have turned around and are looking good.  What changed?  They hired people who know how to run a vineyard.  In 2007, Tony Domingos was brought in as a consultant to help transform the vineyard.  And in 2008, Adam LaZarre came on board as winemaker for Villa San-Juliette.  LaZarre had spent the previous 8 1/2 years as the winemaker for Hahn Estates Winery.
While there are lots of fun stories behind this wine, it still comes down to what's in the glass that really matters.  And when it comes to this zinfandel, I'd say it rocks!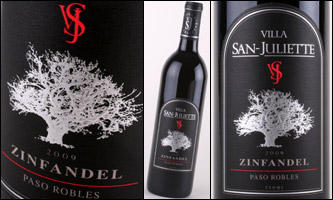 This wine has moderate intensity on the nose with aromas of raspberry, cigar tobacco, blackberry and black pepper.  It's a bit smoky too.  For having 16% alcohol, it's surprising that the fumes aren't too intense.  The palate has a nice acidity to it and flavors of plum and blackberry with a good bit of spice.  This is a lively wine and has a nice mouth feel as well.  If finishes spicy, with raspberry and black pepper flavors.  The acidity in this wine gives makes it stand out from many other zinfandels, and it will go well with rich, fatty foods like pizza.
Wine: Villa San-Juliette
Variety: Zinfandel
Vintage: 2009
Alcohol: 16%
Rating: 88
Price:  $17.00
Find Villa San-Juliette Zinfandel with Snooth
Disclosure: This wine was received as a sample.