The weather is starting to turn to autumn, but we've had a few more warm days recently here in Cincinnati so I'm going to take advantage of it to continue reviewing tasty summer wines.  But this is one that you don't have to limit to summer drinking.  If you're a pinot grigio fan, this is one you'll enjoy any time of year.
This past weekend I was invited to a crab boil, so I wanted to bring a good shellfish wine.  So, I took my tasting notes on this one and enjoyed the rest with some crab.  That said, I did not taste this one blind as we usually do.
The Tenuta Ca'Bolani pinot grigio comes from the Aquileia in the Friuli appellation in Italy.  This area has been prized for its wines since Roman times.
When I'm drinking a pinot grigio, I'm not looking for intense fruit flavors.  What I'm looking for is a very dry white wine with crisp acidity and interesting mineral characteristics to give the wine depth.  And that's exactly what I found in this wine.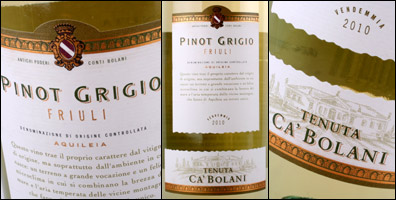 The nose is really nice, with lime, melon and mineral aromas, plus some herbal/hay notes that added some complexity and interest. The palate is nice and tart, just like I like a pinot grigio, with exceptional acidity.  The flavors are light, but enjoyable with notes of lime, granny smith apple and chalk.  The finish is relatively long and brings a touch of sea salt, along with a continuation of the lime flavor.
Wine: Tenuta Ca'Bolani
Variety: Pinot Grigio
Vintage: 2010
Alcohol: 12.5%
Rating: 87
Price: $12.99
Find Tenuta Ca'Bolani Friuli Pinot Grigio with Snooth
Disclosure: This wine was received as a sample.