Today is International Tempranillo Day and to celebrate wine lovers all over the world are drinking tempranillo today.  And wine writers, like me, are writing about tempranillo all over the Internet.  Why?  … Why not?  It's always fun to explore different varieties of wine, and it's always fun to come together with your fellow wine aficionados to celebrate a style of wine.
While I'm not a stranger to tempranillo, I have to admit that it's been a long time since we've reviewed any on this site.  And I think this is the first American tempranillo we've reviewed — all others being from Spain.  But there are actually a number of producers in California (and other regions) making great wine with tempranillo grapes.
¡Viva Yo! from Bodegas Paso Robles is from the Central Coast appellation, despite the "Paso Robles" in the name of the producer.  While some of the fruit in this wine is from Paso Robles, not 100% is, therefore requiring the appellation be the broader Central Coast.  Specifically, this wine has tempranillo from Santa Ana Valley Vineyard in Tres Piños and from Starr Ranch in Paso Robles.  This wine also has 10% cabernet sauvignon, which comes from Rancho Encino Vineyard in Paso Robles.
This is a small production wine too, which makes it special to wine geeks like me.  Only 501 cases of this wine were produced, so you won't find it in every wine shop.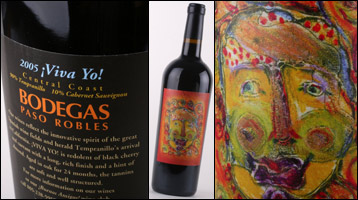 The nose has outstanding intensity, with aromas of plums, raisins and coffee.  It has a lot of depth and character to it too.  It's the type of wine that I spend more time smelling than drinking, just because the aromas are so fascinating.  But then again, the palate is pretty interesting too.
It has loads of jammy fruit up front, like plum and cherry.  Towards the mid-palate it becomes more tart and spicy, while the finish leaves you with mouth-watering fruit flavors and an aromatic herbal twist.  At my first sip, I thought that the concentration of the fruit may become too much, but by the third sip my palate had adjusted and found it balanced – although powerful.  The acidity is stellar and the mouth feel nice.  All in all, this is a really nice wine.
Whether it's this wine or another tempranillo, I encourage you to pick up a bottle of tempranillo today to celebrate with us.  Let us know what you're enjoying today.  Even if you're not reading this on the official Tempranillo Day, may your own day!  Cheers!
Wine: Bodegas Paso Robles ¡Viva Yo! Tempranillo
Variety: 90% tempranillo, 10% cabernet sauvignon
Vintage: 2005
Alcohol: 14.5%
Rating: 92
Price:  $24.00
Find Bodegas Paso Robles ¡Viva Yo! Tempranillo with Snooth
Disclosure: This wine was received as a sample.