Ah, yes.  It's another French rosé.  It's still summer, so we need to celebrate good summer wines.
This one is 100% syrah and it's labeled as a Vin de Pays d'Oc, which means it's a French "country wine" (i.e. Vin de Pays) from Languedoc (i.e. d'Oc).  Vin de Pays is considered a step up from Vin de Table or "table wine" but a step below AOC labeled wines.  Regardless of its classification, this is a nice wine.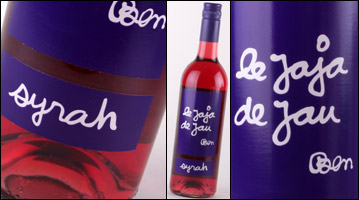 This rosé shows mostly mineral aromas on the nose, there is also some cherry & raspberry but it's subtle.  The palate shows some strawberry and raspberry flavors, but it's not an "in your face" kind of fruit.  It's subtle… it's nice.  This is a dry rosé with no sweetness to speak of.  The acidity is sufficient.  It finishes with mineral and a hint of tart berries.
Wine: Le Jaja de Jau
Variety: Syrah
Vintage: 2010
Alcohol: 13%
Rating: 86
Price:  $10.00
Find Le Jaja de Jau Syrah Rosé with Snooth
Disclosure: This wine was received as a sample.