Last weekend I attended the North American Wine Bloggers Conference, which was held in Charlottesville, Virginia this year.  I came back with a nasty summer cold, which is why I haven't written anything in a week, but I'm feeling much better now.  I also came back with an appreciation for Virginian wine.  While I had heard good things about it, I just don't come across much of it.  In fact, I can't recall ever seeing a bottle of Virginia wine on shelves in my area.  And that's a shame, as there are some really good producers there making some exceptional wine.
But, alas, this review is not about a Virginian wine.  It's about another Californian wine.  Let's face it, they just produce more and have better distribution.  But I will relate this back to Virginia for a moment, just to say that this review is about a varietal that performs quite well in Virginia, viognier.  If you have an opportunity to taste a Virginian viognier, I'd say get on top of it!
Before I left for the conference, I had done a review about Cline Marsanne Roussanne, highlighting a couple nice Rhone varietals being produced outside of the Rhone.  This viognier is also a Rhone varietal, but a much more common one to be found in US vineyards.  It's a varietal known for creating highly aromatic wines, with floral fragrances.  It's also a good pick for spicy food, like Thai.  This particular one comes from the North Coast region in California.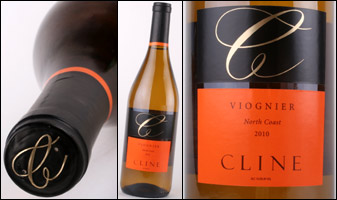 This viognier from Cline Cellars smells pretty much like I expect a viognier to smell, but it lacks a bit of intensity — not that extreme intensity is something I expect.  It has a nice floral aroma, with citrus and wet stone undertones.  The palate has really nice fruit flavors, with peach being the most prominent but I'd also say it's got a pineapple aspect to it as well as a lime flavor that shows up in the mid-palate and into the finish.  The mouth feel is soft and slightly oily, which isn't uncommon for a viognier.  The acidity is sufficient.  While not mind-blowingly good, this is still a decent viognier at a nice price.
Wine: Cline Viognier
Variety: Viognier
Vintage: 2010
Alcohol: 14%
Rating: 84
Price:  $11.99
Find Cline Viognier with Snooth
Want another opinion?  Here's what some other reviewers thought of the 2010 Cline Viognier:
Disclosure: This wine was received as a sample.