Tonight, we're shaking things up.  OK, not really.  That was going to be a play on the Earthquake name of this wine, but truthfully, we're not shaking things up.  In fact, we're continuing the theme of the past few reviews, zinfandel!
You know, seeing zinfandel! with an exclamation point after it looks good.  It looks appropriate for this style of wine.  Perhaps I should start a movement to always include an exclamation point after zinfandel!  Who's on board?
This particular zinfandel is actually a big brother to the 7 Deadly Zins we reviewed yesterday.  It's another wine from Michael David Winery.  It's another Lodi zinfandel.  And just like 7 Deadly Zins, it's blended with a bit of petite sirah and petite verdot.  (And, yes I know I moved on from the whole exclamation point thing.  It got old fast.)
As a "big brother," or "big sister" if you prefer, it's slightly more expensive than 7 Deadly Zins with a suggested retail price of $26.00 — of course, if you shop around you may find it for less.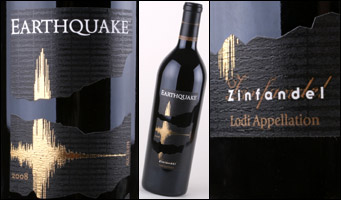 This is a really interesting zinfandel.  It's uber-dark-chocolaty on the nose, where there are also aromas of black pepper, black cherry, raisin and leather.  In the mouth, it has a lusciously smooth feel with flavors of spicy black cherry, plum and dark chocolate.  Despite having a whopping 16% alcohol, it's still well balanced and the alcohol doesn't come across as too dominant.  It finishes long, with spicy berry flavors and more dark chocolate.  This is a fun zinfandel.
While it's quite different from 7 Deadly Zins, qualitatively I found them to be equals and I gave them both 89 points.  The 7 Deadly Zins was more aggressive, spicy and fruit-forward, while the Earthquake is more elegant and chocolaty.  The question is, which style are you in the mood for?  Or, with a $10 price difference, how much do you want to spend?
Wine: Earthquake
Variety: Zinfandel
Vintage: 2008
Alcohol: 16%
Rating: 89
Price:  $26.00
Find Earthquake Zinfandel with Snooth
Disclosure: This wine was received as a sample.