We review a lot of wines here, but surprisingly only a handful of them end up on my personal list of trusted favorites.  This is one of those wines.
Brazin if fairly young as a brand, although the winemaker behind it, Sue Hofmann, has plenty of experience.  We first discovered it with the 2007 vintage, when there was just one wine offered by Brazin.  Now they produce four different zinfandels under the Brazin brand, including some single vineyard releases.  But their Lodi Old Vine Zin is the most widely available, and the most affordable of the bunch.
Although it's only $15.00, this is a serious zinfandel.  It's big, it's bold, it's fruity and it's spicy.  The wine is matured in oak barrels to give it a bit of spice.  And at 15% alcohol by volume, it has a kick.
We did a mini-review of this Brazin back in March, when I met up with Sue Hofmann before the Cincinnati International Wine Festival.  But I didn't score the wine then, as I wasn't tasting it in my typical fashion.  So, I thought it would be good to do a formal review of it.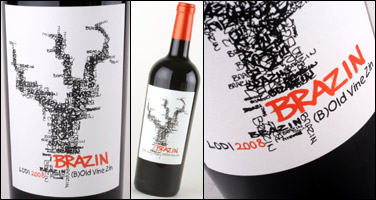 The first thing to stand out about this wine is the intensity on the nose.  When you pull the cork and pour it, it instantly has outstanding intensity without decanting or giving it time to open up.  It has plenty of fruit aromas, like cherry and raspberry, but there's more to this wine than fruit.  The nose is also a touch smoky and it shows some coffee aromas.  The palate it bursting with spiced fruit flavors.  It's like a blend of plums and black cherries sprinkled with nutmeg.  The concentration is outstanding.   It has good acidity and a pleasant mouth feel.  Mid-palate brings a bit of a black tea flavor and it finishes with cherry and black pepper flavors.  This is an extraordinary zinfandel for the price.
Wine: Brazin – Lodi Old Vine Zin
Variety: Zinfandel
Vintage: 2008
Alcohol: 15%
Rating: 90
Price:  $15.00
Find Brazin – Lodi Old Vine Zin with Snooth
Disclosure: This wine was received as a sample.