It's been close to 3 years since we've reviewed Twisted's 2005 Old Vine Zinfandel.  It represented a great value back then at it's $6.99 price tag, but it didn't get our nod for top zinfandel under $20.  Recently, on one of my routine trips to one of my favorite wine shops, I ran across the 2009 vintage.  So I picked up a bottle.  I was very curious to see if the Twisted's great value proposition had changed.  One thing that hasn't changed is the great price – $6.99!  But as this wine lover will certainly attest, there is definitely more to the value proposition than merely price.
I don't have enough fingers and toes to count the number of value priced wines that I've tasted and enjoyed in their early vintages, only to see their value propositions diminish in subsequent vintages, either due to inflating prices or watered down quality.  Not to digress to far here, but this is actually a peeve of mine.  I really enjoy finding gems at great prices, and I enjoy being able to share those gems with friends even more.  But when a winery decides to either make drastic moves up-market with a wine, or worse, dilute the wine's quality, I lose trust in the brand.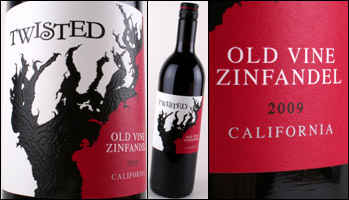 So has Twisted's Old Vine Zin lost me?  Rest assured they haven't.  In fact, I'd say Twisted's Old Vine Zinfandel now represents an even better value.  3 years later and the wine has still retained it's great price.  That alone is noteworthy.  But how about the quality?
The first thing you might notice about the 2009 Twisted is it's translucence, which is unlike most zin's, particularly old vine zin's, and more like a pinot.   The wine lacks the rich sheen that zinfandel usually has, but no matter.  The wine is not short of intensity.  The nose is quite complex, offering strawberry and rhubarb, along with a jammy bubble-gum edge.  There are additional hints of white pepper and plum that show up as well.  On the palate, there's a nice balance of acid and fruit.  If there is one flaw, I'd say it's the mid-palate.  The wine is nice and jammy on the front palate and shows good acid on the finish, but this bookend intensity leaves the mid-palate a bit inconspicuous.  I call that a good problem to have.
If you've yet to try Twisted's Old Vine Zinfandel, it would be hard for me not to recommend this wine, even if you weren't fond of jammy wines, particularly zin.  And at $6.99, you can certainly try it more often.  Let's hope Twisted doesn't let us down anytime soon.
A  Salute!
Wine: Twisted
Variety: Zinfandel
Vintage: 2009
Alcohol: 14%
Rating: 87
Price: $6.99
Find Twisted Old Vine Zinfandel with Snooth