Our last post was about an outstanding cabernet sauvignon, so let's check out another.
This one, from BenMarco, comes from the Mendoza region in Argentina.
Every time I taste a wine from Argentina I ponder whether to call it "Argentine" or "Argentinian."  It turns out both are acceptable.  Argentinian tends to be used more by Europeans, which of course makes it fancier.  And while I appreciate European culture, I'm all about concision. Argentine has two fewer syllables and therefore it gets my vote.  I've also heard somewhere that the correct usage would be Argentine wine, made by Argentinians.
But we're not here to debate nuances of language, we're here to taste wine.  And this is a really good one.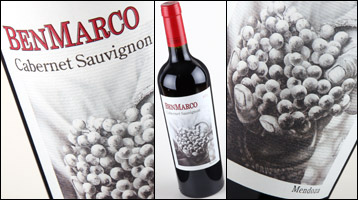 The nose of this wine is just lovely, with powerful vanilla, dusty blackberry and black currant aromatics.  It's quite good on the palate too, offering well-concentrated blackberry, cherry, plum and currant flavors that are harmoniously balanced.  The acidity is great too, giving the wine a vibrant liveliness.  Soft tannins add a slight texture to the mouthfeel.  This is a very tasty and extremely drinkable cabernet.
Wine: BenMarco Cabernet Sauvignon
Variety: 90% cabernet sauvignon, 5% cabernet franc, 5% merlot
Vintage: 2010
Alcohol: 14%
Rating: 90
Price: $20.00

Find BenMarco Cabernet Sauvignon with Snooth

Disclosure: This wine was received as a sample.